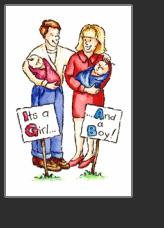 Just as couples make adjustments as newlyweds, New Parents find their health and financial priorities changing once the new baby arrives. The New Parents Recipe Box will help them with strategies for losing that "baby fat", as well as sort through their options when budgeting for a new member of the family who needs their full support.

Other strategies include when to consider a bigger home and how to invest for the child's education. This box contains tips for new parents, both for healthy eating and with finances. . .tips they can pass down to their own children.

Makes a great shower or new baby gift!





Wealth & Wealth Factors | The Graduate | Newly Weds | New Parents | Suddenly Single | Retirement